– Therése Neaimé's new single asks the questions we all sometimes wonder about.
– I think we have all felt at one point that life loses its color and that everything just feels gray and sad but at the same time it can be difficult to put your finger on what bothers you, says Therése Neaimé.
"E det så det kommer va? " (Is this the way it´s gonna be?!) is Therése´s latest single in Swedish. The song is a collaboration between Therése herself and the songwriters Ollie Olson, Gunnar Nordén and Emanuel Olsson. Mastered by Björn Engelmann at Cutting Room. Cover photo by Stefan Lundaahl. ❤️
"I believe life is about becoming the best version of ourselves. Following a path of excellence can be difficult, but not doing so scares me even more, Therése says.
The song is a fine-tuned mid-tempo song that touches on the depth. Who has not invested everything in a relationship to later find out that it did not turn out as intended!?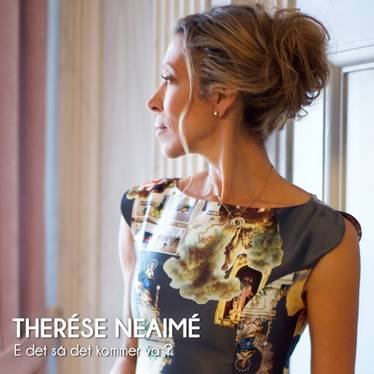 Therése Neaimé continues to invite us into her texts written from the heart without censorship. Her sound is even more stripped down and personal than before.
– I think we decide on our own destiny and I am passionate about inspiring others to dare to take the step to a better life. To not dare, and just let life pas, would be so much worse.
MUSIC VIDEO CREDITS:
Directed and filmed by Malin Nikander.
Stylist Christopher Bergström.
Edited by Lauren Asdland-Halling.
Special thanks to Mia Sjöström for press text. To Maria Lämber, Ewa Arve, Teresia Norrthon-Bergman, Tony Bergman, Agneta Rognli lending us your most wonderful locations. Not without you all!! ❤️
Released by Roland Billberg.
Clothes by Maxjenny and Twist&Tango.